NEW GREEK STYLE YOGURT QUEEN, DELICATELY CREAMY, WITH NATURAL INGREDIENTS, HIGH PROTEIN CONTENT AND ONLY 2% FAT.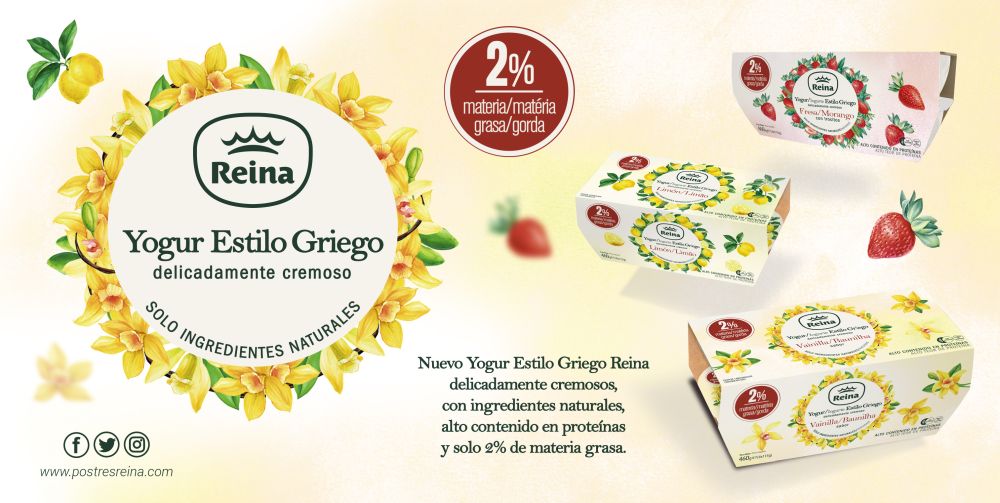 Reina Yogurt, in its continuous innovative eagerness and with the aim of satisfying its customers and consumers, has developed its new range of Greek style yogurt low in fat and high in protein, presenting these new references in the
formats of 4X115g and 500g. A simple way to enjoy breakfasts andsnacks; very rich to combine in salads, creams, biscuits and desserts.

Natural Greek Yogurt, 2% fat.

It is a delicious natural yogurt, with a consistent and creamy texture, it can be taken alone or accompanied byhoney, or
pre-ferinated fruits, in 500g format with lid, to facilitate its consumption.
Greek yogurt with Stracciatella, 2% fat.
We accompany the delicious Natural Greek yogurt 2% MG, with rich pieces of chocolate, so we have obtainedthis wonderful product that the whole family likes.
It is presented in 500g format, with a lid to facilitate its consumption.
Greek Yogurt Vanilla Flavor 2% Fat
The unmistakable taste of vanilla reinforces the creaminess and sabor of this yogurt.
A classic flavor to discover a new way to appreciate it, presented in an attractive design in pack of 4 units of 115g.
Greek yogurt with strawberry 2% fat
Mix the Greek-style yogurt with small pieces of strawberries, whichprovide a delicious flavor and texture in a pack of 4 units of 115g.

Lemon Greek Yogurt 2% fat
The creaminess of the best Greek-style yogurt combines perfectly with the explosive flavor of lemon, which makes it appetizing at any time ofthe daypresented in a pack of 4 units of 115g.

In Reina Yogurt we know the benefits derived from a regular consumption of milk and dairy products, from the nutritional point of view, and to maintain an adequate quality in the different stages of life.
Theche and dairy products constitute a complete food group and balanced, proporcionando one elevated content of nutrients in relation to the content caloric.
All the yogurt of the range is elaborate with milk of origin Spain and with ingredients Natural, presenting a very balanced composition, contributing proteins of high biological value, carbohydrates, fat, fat-soluble vitamins and minerals, especially calcium and phosphorus.